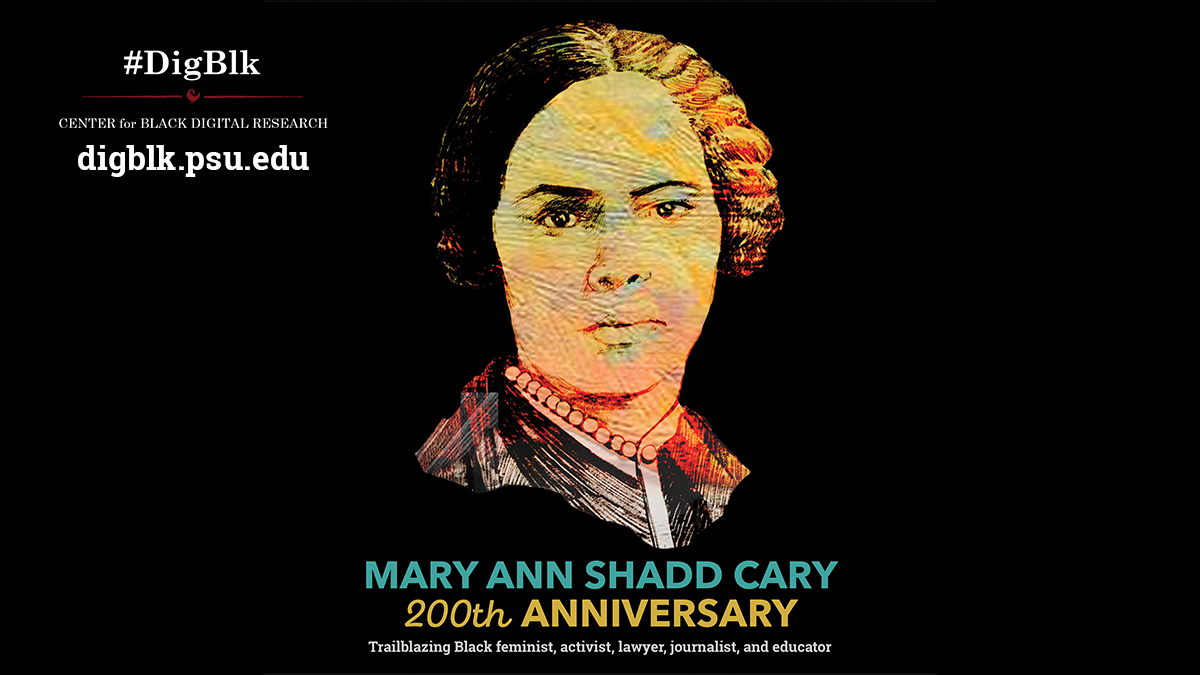 Mary Ann Shadd Cary
October 9, 1823–June 5, 1893
This year marks the 200th anniversary of Mary Ann Shadd Cary's birthday and we are pleased to share events and resources that commemorate her life and legacy.
Shadd Cary was born in Wilmington, Delaware on October 9, 1823. She was an antislavery activist, educator, and lawyer as well as a pioneering newspaper editor, journalist, and publisher of The Provincial Freeman. She grew up in the strong Black communities of Delaware and Philadelphia before emigrating to Canada. After the U.S. Civil War, she moved to Washington D.C.
Across all of these places, Shadd Cary worked endlessly to empower and educate Black people in the United States and Canada through her public writing and speaking, editing, suffrage activism, and community organizing. She was a fearless advocate for her causes. As she wrote in an 1849 letter to Frederick Doulasss, "In anything relating to our people, I am insensible of boundaries."
Read more about Mary Ann Shadd Cary at the Black Women's Organizing Archive.
VIRTUAL BOOK LAUNCH
Mary Ann Shadd Cary: Essential Writings of a Nineteenth-Century Black Radical Feminist
Edited by Nneka D. Dennie
Join Nneka D. Dennie (Washington and Lee University), Jim Casey (Pennsylvania State University), Kristin Moriah Queen's University), Jane Rhodes University of Illinois Chicago), Melvin Rogers (Brown University), and Jacinta Saffold (University of Delaware) for this celebration of Mary Ann Shadd Cary's 200th birthday.
Monday, Oct. 9 • 6:00-7:30 pm EST
Register at tinyurl.com/MASCLaunch
IN-PERSON EVENT
Breaking the Ice: Mary Ann Shadd Cary Bicentennial Celebration
with Dr. Jane Rhodes and Leslie McCurdy
Saturday, Oct. 14 • 2:30-3:30 pm EST
Hosted by Literary Arts Windsor
Ticket information at BookFest/Festival du Livre Windsor 2023
VIRTUAL EVENT
Dear Cousin M: Mary Ann Shadd Cary and Genealogies of Resistance
A Presentation by Dr. Kristin Moriah
Thursday, Oct. 26 • 2:00 pm EST
Hosted by the Amherstburg Freedom Museum
Registration information coming soon!
 A working list of Shadd Cary's known papers and collections of primary documents as located across numerous institutions, libraries, and repositories.
Previous CBDR-Sponsored Events
PRESENTATION
"Papers Worthy of Patronage"
Black Feminist Research Methods and the Digital Humanities
On. Dec. 1, 2022 at the Delaware Historical Society, Dr. Kristin Moriah discussed her work on the first-ever edited collection on pioneering thinker Mary Ann Shadd Cary (1823-1893) that centers innovative scholarly work from a broad range of interdisciplinary perspectives. Plus a sneak peak overview of the classroom-friendly exhibit "Becoming Mary Ann Shadd Cary: A Life in the Pursuit of Justice" by Kelli Barnes and Dr. Arline Wilson.
TRANSCRIBE-A-THON
Douglass Day 2023: Celebrate Shadd 200
On February 14, 2023, our annual transcribe-a-thon, broadcasted on YouTube, featured the papers of Mary Ann Shadd Cary. The event had 7,400 participants at 134 event locations who transcribed 65,737 pages from Mary Ann Shadd Cary collected archives in the U.S. and Canada.
VIRTUAL SYMPOSIUM
Mary Ann Shadd Cary in the Here and Now
On Oct. 1 and 2, 2021, scholars, historians, archivists, and community members share papers and discuss next steps towards celebrating Shadd Cary's 200th birthday in 2023. The event featured two scholar panels, an archivist round table, community planning, and two keynote speakers.
PERFORMANCE & DISCUSSION
Dancing Mary Ann Shadd Cary's Activist Legacies
On Dec. 10, 2020 we saluted the Shadd's Daughters Project: an oral history project of women journalists, educators, activists, and lawyers from the U.S and Canada who are carrying on Shadd Cary's legacy as a pioneer in these areas. This event featured artistic performances of oral history excerpts embodied and expressed through dance.
Previous Events by Partners & Allies
Breaking the Ice: Launching Mary Ann Shadd Cary's Bicentennial Birthday Celebration in Windsor • March 22-25, 2022

Events hosted by Artcite Inc. and the Essex County Black Historical Research Society
The Black Press in Canada Conference • Sept. 30-Oct. 1, 2022

The Black Press in Canada Conference brings together community research partners, students, and academic collaborators for a two-day event.