The Center for Black Digital Research is committed to offering students ways they can be academically engaged with the Center. These events are open to both Penn State students, staff, and faculty and people from other institutions.
Fall 2021: Weekly Programming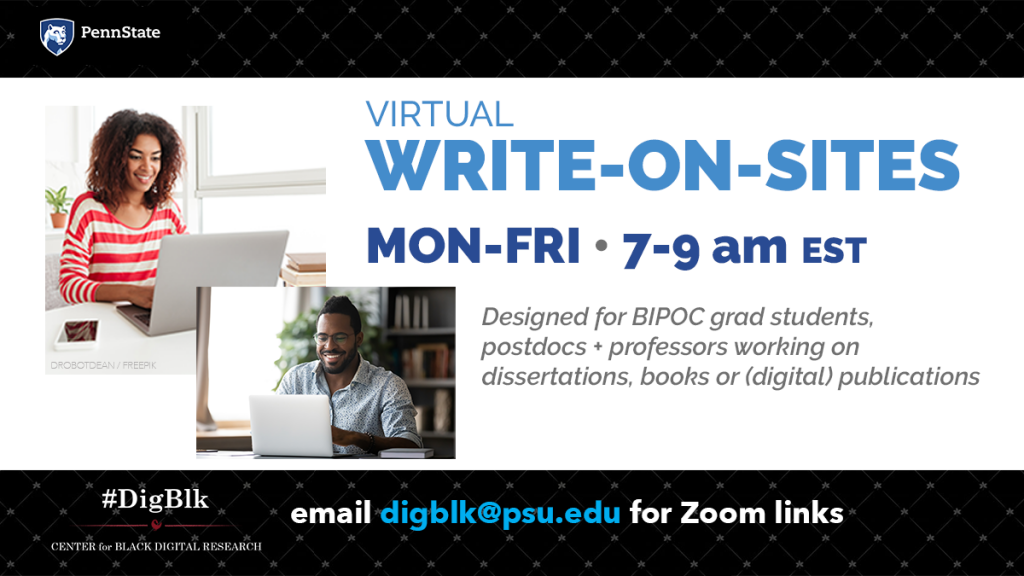 Write-on-Sites • Virtual
Our Virtual Write-on-Sites series provides a dedicated writing space for BIPOC graduate students and postdocs to come together in community and advance their writing. The two-hour sessions are dedicated to quiet individual writing time to advance dissertation, article, or book writing projects.
When: Monday through Friday, 7:00-9:00 a.m. EST. To join, please email digblk@psu.edu for the Zoom link.
Black DH Reading Group • Virtual and In-person
The DigBlk Reading Group series invites African Americanists to engage in critical dialogue about their work in relation to the Black digital humanities. The reading group will equip scholars with a conceptual toolkit to fortify their scholarly, pedagogical, and social justice commitments.
For the Critical Foundations series, we draw selected readings that center on Black experience and probe the ethical, empirical, and epistemological considerations of working at the crossroads of digital studies and African American history and culture.
When: October 6th and every other Wednesday, 2:30 to 3:30 p.m. EST
Where: The Blockson Room, Pattee Library, 3rd Floor or via Zoom (please email digblk@psu.edu for the Zoom link).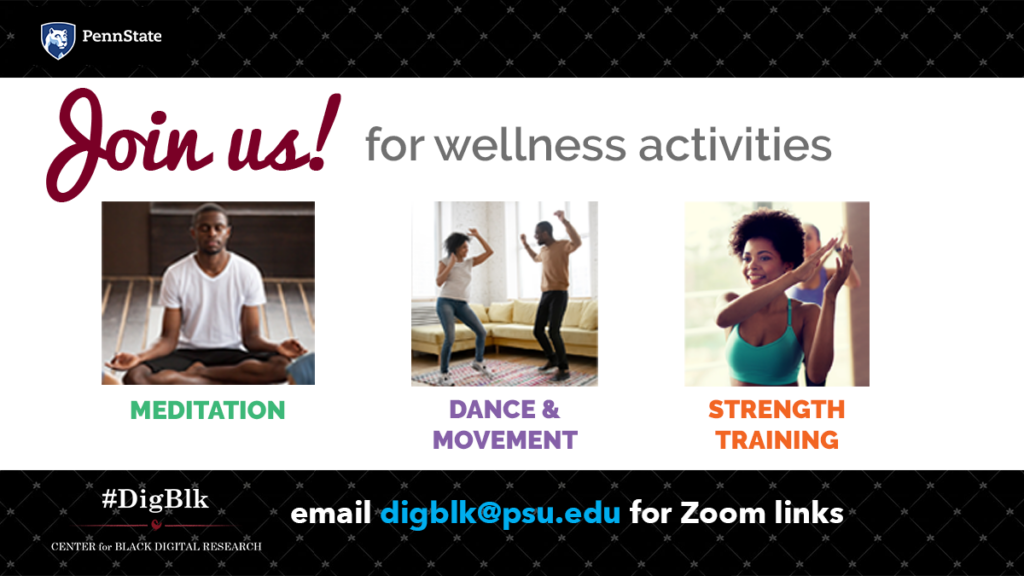 Wellness
#DigBlk seeks to lift up the importance of self-care and wellness through a series of workshops attentive to the historical and contemporary traumas that can impact BIPOC graduate students' and postdoctoral fellows' experiences in higher education. The workshops incorporate movement, meditation, dance, and other forms of stillness and motion to establish and explore each persons' role in creating community wellness.
When: Programming for fall 2021 is on hiatus.
Community and Scholarly Events